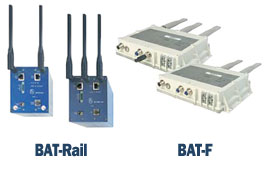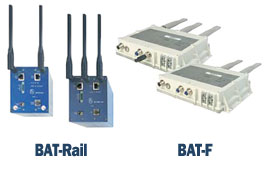 Hirschmann BAT54-series, Wireless LAN System
Hirschmann BAT54-series, Wireless LAN System
รายละเอียดสินค้า Hirschmann BAT54-series, Wireless LAN System
Hirschmann:
** กรุณาติดต่อพนักงานขาย เพื่อสอบรามสเป็คและราคาสินค้า **
เฮิร์ซแมนน์ – อุปกรณ์เครือข่าย Ethernet สำหรับมืออาชีพ
ด้วยความเชี่ยวชาญที่มีต่อเทคโนโลยีด้านเครือข่าย(IP-Networking),เรา Hirschmann™จึงได้พัฒนาโซลูชั่นและนวัตกรรมที่มุ่งตอบสนองความต้องการของลูกค้า ทั้งในแง่ของประสิทธิภาพและความน่าเชื่อถือ
This device is designed for mounting on a top-hat rail and can be used both as Access Point and Access Client. Unlike the BAT54-Rail, this new Access Point has only one WLAN interface, making it a cost-effective alternative for applications that do not require a second interface. In common with its 'elder brother', however, the BAT54-Rail Single offers the full range of functions supported by the powerful HiLCOS operating system.
A unique platform concept that permits tailor-made solutions with an optimum price-performance ratio
Innovative wireless technology that guarantees maximum WLAN availability
Integrated ESD protection combined with robust hardware ensures high reliability and an extremely long operational lifetime for the access points
Your Benefits
The access points in the OpenBAT family offer an optimum degree of flexibility, while maximizing cost effectiveness. Their modular design permits the configuration of up to 8,000 versions, differing in terms of functions, protocols, WLAN and Ethernet ports, interfaces, power supply, installation concept and certifications. It also offers dedicated versions per country approval like for USA/Canada, Europe, China, Brazil and many others. This enables you to obtain an access point tailored to your precise individual requirements. Clear Space® technology is included in all versions, which reliably eliminates competing radio frequencies. This guarantees stable WLAN connections at all times. The robust hardware and integrated ESD protection (capable of withstanding electrostatic discharges of up to 25 kV), make
the OpenBAT family a model for dependability.

OpenBAT Family from Hirschmann™
The access points and clients in the new OpenBAT family can be mounted on DIN rails (BAT-R) or installed on walls or masts in indoor and outdoor (BAT-F) areas. Available with or without conformal coating, the devices have an operating temperature range of 0°C to +60°C or -40°C to +70°C. All versions support the IEEE 802.11n transmission standard, with PROFINET, EtherNet/IP, Public Spot and VPN Gateway as options.

access point has one or two wireless modules and Gigabit Ethernet ports with tried and tested M12 connection technology (IP67 version), one of which is configurable as a combo port (fiber optic/twisted pair). A serial M12-RS232 interface and a USB port are also provided. For redundant power supply using potential-free relay contacts, a choice of freely combinable PoE power packs for IEEE 02.3af, 24/48 V DC, 60/120/250 V DC or 110/230 V AC is available.